I mentioned the other day about Miss M's lunches in the lead up to St Patrick's day last year.
Here is another of her lunches from that week.
Vege rainbow - made up of:
tomato, carrot, yellow capsicum, beans, blue food colouring on some mushrooms purple lettuce. The cloud is made of creamy potato mash that I piped out & the 'gold' is cauliflower covered with edible glitter
One of the treats Miss M got for the week are these shamrock pretzels, made up from 3 mini pretzels & a pretzel stick, held together with melted white chocolate & decorated with green sprinkles.
You can see my St Patrick's Day posts:
here - Part Four
here - Green Eggs & Ham Quiche
Looking for more great inspiration? I've linked this post
here
.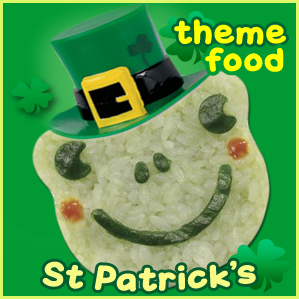 ~J
Disclosure: This is not a sponsored post. This post was written for Loving Lunches. No product was received for this post. All opinions expressed are my own, based on personal experience with the product.