Can you believe it's March already? That means St Patrick's Day is just around the corner. I'll be posting some of the cuteness I sent to daycare last St Patty's day this week.
One of the hits was this Green Eggs & Ham quiche I made. You can find the original recipe & Pinspiration
here
.
I did try to make these in foil containers shaped like a shamrock. . . as you can see that didn't really work. They did however, taste fabulous, and seeing as they aren't particularly Irish, I thought I would share them with you today to celebrate Dr Seuss' birthday. If you're looking for more Seussian fun, check out the Linky Party at the Bento Bloggers & Friends site
here
as well as the Dr Seuss Fun Food Ideas on the Bento USA site
here
. Can you spot mine amongst them?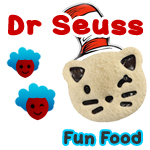 ~J
Disclosure: This is not a sponsored post. This post was written for Loving Lunches. No product was received for this post. All opinions expressed are my own, based on personal experience with the product.