Last year, each day in the week leading up to St Patrick's Day, Miss M had special lunch. I won't be celebrating St Patrick's Day with quite so much enthusiasm this year, as it falls on a Sunday, so here's a the start of my flash back to last year.
Each day for her sandwich, Miss M had a ham & cheese clover, topped with a clover cut out from a spinach tortilla.
Most of the offcuts from the tortilla ended up in my lunch (or stomach at the time), however I did save some to make these little cheerio leprechauns.
The beards/bases are cut like an octo-dog, their faces are small sliver of the skin removed & then decorated with FooDoodlers, available from affiliate
Neat2Eat
. The detail on their hats is poorly applied Vegemite and some writing icing.
I will be posting some more St Patrick's lunches during the week, so stay tuned. If you've come along late, the short cuts for the posts will be:
here - Part Two
Looking for more great inspiration? I've linked this post
here
.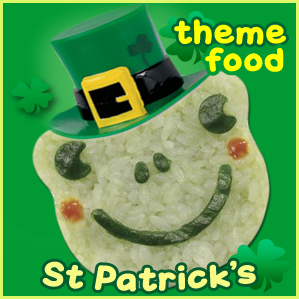 ~J
Disclosure: This is not a sponsored post. This post was written for Loving Lunches. No product was received for this post. All opinions expressed are my own, based on personal experience with the product.