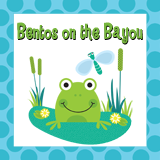 Hi! I am Rebecca from Bentos on the Bayou, and I am incredibly excited to be your guest blogger today. You can find my blog at www.bentosonthebayou.com or HERE on Facebook.
I live in Texas, USA and have a twelve year old daughter and a 4 year old son. I love creating healthy and fun lunches for my children, and they love eating them. Bento making is my biggest stress reliever and something that brings me incredible joy.
I am blessed to have met Jackie through a bento group we are both a part of, and I adore her bentos!
I made a garden lunch to share with you today. I love to pack as many veggies as I can in my lunches, so a garden theme is always easy to accomplish. This is an easy beginner bento, as well. I used a star shaped rice mold to make the pink flowers, and the rest was just slicing a few items and arranging them in the box!
What's in the Box?
Pink Rice (colored with veggie-based natural food coloring)
Lettuce, Carrots, Celery, Heirloom Cherry Tomatoes
Red, Yellow & Orange Bell Peppers, Baby Cucumbers
Deli Ham, Clementine Orange
Steamed Broccoli
Thank you Jackie for allowing me to be your Guest Blogger today!
~J
Disclosure: This is not a sponsored post. This post was written for Loving Lunches and Bentos on the Bayou. No product was received for this post. All opinions expressed are my own, based on personal experience with the product.